Scheduling Updates Related to COVID-19
As it is still uncertain when we can resume our in-person classes and camps, Summer Registration, which was originally scheduled for April 13 and April 20, is postponed until further notice.
VMFA Staff continues to plan and modify summer classes and camps as needed and will be exploring potential online components and content for students. We will update schedules and offerings on our website accordingly as developments occur.
As soon as we have determined when registration can begin, we will notify you of the revised dates. All updates and notifications will be emailed, posted on social media, or posted here on the website.
We can't wait to see you in person at VMFA or virtually!
Learn about our response to COVID-19 here.

Ages 5-12, or rising 1st through 5th graders
Four-day camp, Jun 24-28,  2019
Mon-Thu, Jun 29-Jul 2
9 am-noon
Art Education Center, Studio 1
$125 per child (VMFA members $110)
Enrollment limit: 6 students
In an exciting new program designed specifically for children with autism spectrum disorder, budding artists explore the museum's collections, experiment with art materials, learn through specialized teaching methods, and interact with peers. This summer camp is taught by a National Board Certified Teacher who is passionate about both art and working with ASD children.
Download Programs Info and Emergency Form.
Note: Upon registration, VMFA will send a confirmation email to the address you provide. Please review the information carefully as it includes further details about the program and the required emergency form, which is to be submitted on the first day of camp. For further questions, please contact youthstudio@VMFA.museum.
Class Schedule
---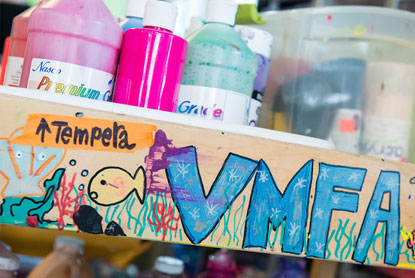 [A1] Sensory Studio
Mon–Thu, Jun 29–Jul 2, 9 am–noon | Art Education Center, Studio 1
Sandi Wiley

Rising 1st–5th graders | Explore your senses in the studio and through the galleries! See, feel, and even hear art while exploring fun materials and projects designed specifically around each student's needs and interests.

$125 (VMFA members $110)