For Museums, Galleries and Organizations
What do more than half a million Virginians have in common? These Virginians all had a VMFA art experience in their own communities — many of them miles from Richmond. The VMFA Art and Education Division provides educational exhibitions and programs to museums, arts centers, libraries, galleries, schools, colleges and universities, and retirement facilities throughout the Commonwealth. The Virginia Museum of Fine Arts Statewide Program brings the museum to you! With a network of over 1000 partners across the Commonwealth, VMFA offers exhibitions and programs designed to enhance and expand art experiences for all Virginians.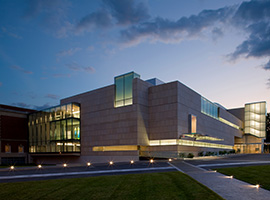 Speakers Bureau: It's Your Art – Local
Docents and members of the Council of VMFA take the museum into the community by presenting a very visual introduction to its history, services and facilities. Speakers interpret images from the permanent collection and preview coming exhibitions. Service clubs, church fellowships, women's clubs and senior citizen groups will find that this FREE program at your location provides an excellent enrichment program and prepares the audience to visit VMFA, a world-class museum that belongs to all Virginians. Request a VMFA Program or Resource
Statewide Programs and Resources
Kid Pan Alley residency
A week-long workshop that turns young students into song writers at the Virginia Museum of Fine Arts.