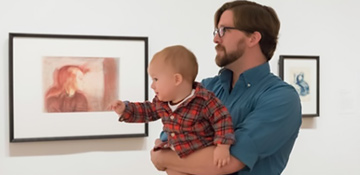 Ages 3-13 months, accompanied by an adult
Select Mondays, 12:30-1:30 pm
Art Education Center
$18 per child/adult pair (VMFA members $15)
Enrollment limit: 12 infants
Advance registration required
It's never too early to introduce your child to art. This innovative program engages both baby and caregiver through the gallery visits and safe art projects.
To determine if this class is developmentally suited for your child, please contact Lori Valente Coffey at 804.340.1343.
Note: Classes are nonrefundable and cannot be transferred to another class. Be sure to mark your calendars
We offer weekend infant classes also!
Check out Wee-Kids Workshops on select Saturdays of each month.
Class Schedule