At the Virginia Museum of Fine Arts, we believe that great art should be shared.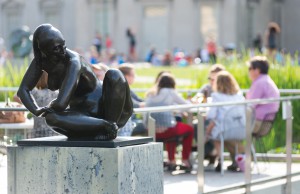 Our permanent collection is free and our doors are open 365 days a year. Through our statewide partnerships and digital outreach, we strive to bring art experiences to every corner of the commonwealth.
You can help give Virginia another 365 days of great art by making a gift to VMFA. More than simply keeping our doors open, your gift will animate every aspect of the museum's mission to preserve, collect and share the magnificent works of art under our care.
Here are a few of the things we can accomplish together in the next 365 days:
Visitors of every age and background find moments of inspiration and insight exploring the museum's galleries. For some, VMFA is a space for solitary reflection. Others find common ground in conversation or share their discoveries through social media. Your gift will ensure that the permanent collection remains free for everyone to enjoy—each in his or her own way.
From self-portraits created in our children's programs and wearable art designed for the Teen Stylin' runway to woodcut prints inked in the Studio School's adult classes, art-making happens across VMFA's campus. Your gift will nurture the sense of possibility that hands-on creativity brings.
A school group tour of the museum's Egyptian galleries creates indelible memories of Tjeby, our resident mummy, for a new generation. One hundred miles away, another teacher brings the art of imperial China into his classroom through interactive tools on VMFA's Learn site. Your gift will help our youngest visitors discover the power of art throughout human history.
Beautiful afternoons walking through the Sculpture Garden. Dynamic performances during VMFA Family Events. Listening to live jazz at Best Café on Thursday evenings. Your gift will sustain VMFA as a vital community space.
Gifts to the Virginia Museum of Fine Arts Annual Fund are tax-deductible and may be eligible for a corporate match.
Please note: VMFA is using Mightycause, a third-party online advocacy and fundraising application for this campaign. Mightycause's Terms of Service and Privacy Policy apply to your use of this service. VMFA is unable to answer any inquiries regarding the status of your contribution while it's being processed by Mightycause.