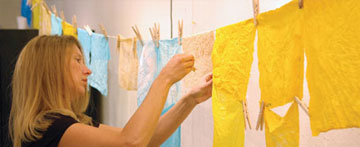 The most varied of all areas of studio art study, Design + Mixed-Media covers a wide range of classes and workshops including Hoop Embroidery, Introduction to Jewelry, Introduction to Stained Glass, Introduction to Sewing and many others.
Instructors Sarah Hand, Jude Schlotzhauer, and Mary Swezey teach many of the classes and workshops.
Class Schedule
---
[68] Introduction to Sewing NEW!
The, Jan 30 -- Apr 2, 10 am – 1 pm | Pauley Center Studio B
Catherine Southall

This class is designed for beginners as well as students with some sewing experience. Participants will learn the basics of machine and hand sewing with emphasis on personal fit, pattern usage, garment design, fabric selection and manipulation, sewing tools, and terminology. Students will complete two small sewing projects, sewing samples, and a personal project with instructor guidance. Demonstrations include how to take measurements, read a pattern, proper layout and cutting techniques, traditional and modern stitch methods, marking and transferring darts, installing zippers and buttonholes, using elastic, pockets, seaming, and finishing techniques. Students will learn time-saver techniques for altering patterns. Discussions will include textile usage, stabilizers, and interfacings. This class will prepare participants for more advanced projects and may be repeated.
$210 (VMFA members $190)
---
[70] Introduction to Stained Glass Workshop
Sat & Sun, Feb 22 & 23, 10 am – 4:30 pm (2 sessions) | Studio School, 2nd floor
Jude Schlotzhaur

Learn the basics of stained glass and create a small window panel in your choice of patterns. Techniques covered in the workshop include pattern making, glass cutting, copper foiling, soldering, and construction. Make something beautiful to treasure or give as a special gift. All materials are included.

$175 (VMFA members $160)
---
[71] Introduction to Papier-Mâché
Thu, Apr 30 -- May 21, 10 am -- 1 pm (4 sessions) | Studio School, 2nd floor
Sarah Hand

Explore sculpting with papier-mâché to create small sculpture. The instructor will demonstrate the use of armature sculpting, traditional newspaper and paste papier-mâché, and painting. Students will then create their own sculptures. Learn various ways to attach pieces, create expressions, and embellish. Explore how to make a three dimensional object in this low-tech medium. The instructor will also show examples of her own creations and give students an overview of papier-mâché. A materials fee of $20 is payable to the instructor at the first class session.