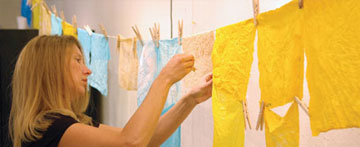 The most varied of all areas of studio art study, Design + Mixed-Media covers a wide range of classes and workshops including Hoop Embroidery, Introduction to Jewelry, Introduction to Stained Glass, Introduction to Sewing and many others.
Instructors Sarah Hand, Jude Schlotzhauer, and Mary Swezey teach many of the classes and workshops.
Class Schedule
---
Hoop Embroidery Workshop [51]
Sat, Mar 27, 10 am -- 4 pm (1 session) | Studio School, 2nd floor
MARY SWEZEY
Learning a few basic embroidery stitches will allow you to embellish your own clothing or household textiles or simply make marks on fabric and draw with thread. Embroidery is an easy, portable, and inexpensive art form. Cotton fabric, embroidery floss, embroidery needles and hoops will be supplied. Feel free to bring a piece of clothing to embellish. Expect to complete a small sampler of stitches and a hoop composition suitable for hanging. A materials fee of $20, payable to the instructor, is due at the beginning of the workshop.
$90 (VMFA members $75)
---
Introduction to Stained Glass Workshop [52]
Sat & Sun, Apr 10 & 11, 10 am – 4:30 pm | Studio School, 2nd floor
JUDE SCHLOTZHAUER
Learn the basics of stained glass and create a small window panel in your choice of patterns. Techniques covered in the workshop include pattern making, glass cutting, copper foiling, soldering, and construction. Make something beautiful to treasure or give as a gift. All materials are included.
$175 (VMFA members $160)