Summer registration begins Apr 8 for VMFA members and Apr 15 for non-members.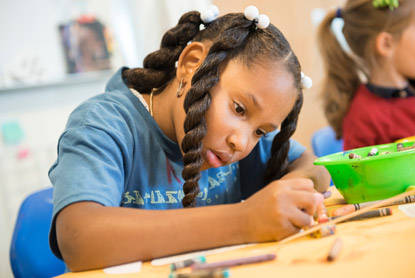 Five-day camps
Jul 6– Aug 28, 2020
Mon – Fri, 9 am – noon or 1 – 4 pm
Meet in the MWV Art Education Center
$140 per camp (VMFA members $120)
Experience adventures in art, culture, and creativity in VMFA's studios and galleries! Art camps are carefully tailored to your child's specific age group and taught by professional artists and educators. Each camp provides access to quality supplies and a world-renowned art collection, inspiring young artists to create, learn, grow, imagine, and have fun!
Download Programs Info and Emergency Form.
Note: Upon registration, VMFA will send a confirmation to the email address you use in your registration. Please review the information carefully as it provides further details about the program and the student emergency form, which should be submitted on the first day of camp. It is important that caregivers understand all rules, policies, and procedures including drop-off and pick-up procedures, food regulations, studio conduct, and VMFA's cancellation policy.
Connect-a-Camp: For students enrolled in both morning and afternoon youth camps, this program provides supervised activities such as drawing in the galleries and playing games as well as supervision during lunch. Students are required to bring bagged lunches from home.
Class Schedule