Summer registration begins Apr 8 for VMFA members and Apr 15 for non-members.
Five-day camps
Jul 8– Aug 30
Mon – Fri, 9 am – noon or 1 – 4 pm
Meet in the Art Education Center
$140 per camp (VMFA members $120)
Experience adventures in art, culture, and creativity in VMFA's studios and galleries! Art camps are carefully tailored to your child's specific age group and taught by professional artists and educators. Each camp provides access to quality supplies and a world-renowned art collection, inspiring young artists to create, learn, grow, imagine, and have fun!
Download Programs Info and Emergency Form.
Note: Upon registration, VMFA will send a confirmation to the email address you use in your registration. Please review the information carefully as it provides further details about the program and the student emergency form, which should be submitted on the first day of camp. It is important that caregivers understand all rules, policies, and procedures including drop-off and pick-up procedures, food regulations, studio conduct, and VMFA's cancellation policy.
Class Schedule
---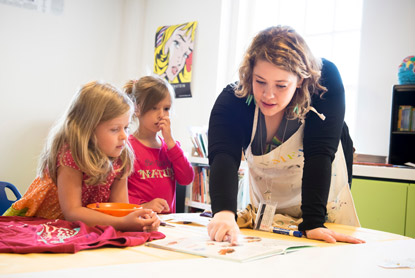 I Love Textiles [C35]
Mon–Fri, Aug 26–30, 9 am–noon | Art Education Center, Studio 2
Mary Swezey

Ages 5–6 | Enjoy the art of fabrics! After discovering the stunning textiles in VMFA's galleries, explore the basics of "fabricating" your own art in the studio, including weaving, silk painting, stamping, and stenciling.

$140 (VMFA members $120)