Early Childhood Education Classes will be virtual for September and October with registration available August 24th for members and August 31st for non-members.
Decisions for November and December class formats are yet to be determined.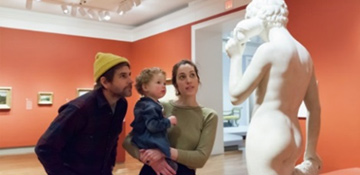 Foster children's growing mobility through energetic art activities throughout the museum campus.
To determine if these classes is developmentally suited for your child, please contact Lori Valente Coffey at (804) 340.1343.
Note: Classes are nonrefundable and cannot be transferred to another class. Be sure to mark your calendars.
Class Schedule
Tots of Art: Gallery
Tots of Art: Story Time + Studio