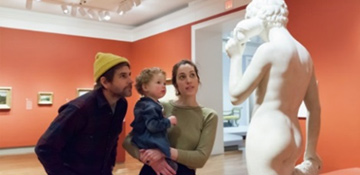 Foster children's growing mobility through energetic art activities throughout the museum campus.
To determine if these classes is developmentally suited for your child, please contact Lori Valente Coffey at (804) 340.1343.
Note: Classes are nonrefundable and cannot be transferred to another class. Be sure to mark your calendars.

We offer weekend toddler classes also!
Check out Wee-Kids Workshops on select Saturdays of each month.
Class Schedule
Tots of Art - Ages 14-30 months
Tots Together - Ages 18 months–30 months