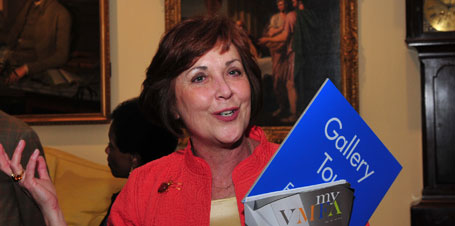 In 2008, as the regional liaison for the Museum of Modern Art's Alzheimer's Project, the Virginia Museum of Fine Arts launched ArtLinks, group tours for facilities that serve individuals with dementia and Alzheimer's disease.
What is an ArtLinks Tour like?
ArtLinks tours offer a supportive and enriching experience in a gallery setting. VMFA Educators "link" the act of looking at art to participants' experiences by encouraging opinions, discussion, and positive interaction.
ArtLinks Tours are conducted by specially trained docents or guides and last approximately one hour. Although the tour is itself an hour, we encourage you to set aside two hours for a visit so your guides can best serve the varying needs of your group.
An ArtLinks tour is operated by one guide and one tour assistant. The guide will facilitate your group's experience in the galleries while the assistant is there to help direct caregivers and residents to the restroom, obtain gallery stools, or answer any questions you may have.
Your group will be met at the entrance by your guide and assistant who will remain with the group the entire time you are at the museum.
Booking Information
Tours for groups are offered Monday – Friday depending on docent availability. Fee: $5/person, minimum of 10 people and maximum of 16 people per group. We encourage at least a 1:3 ratio of caregivers to residents. Up to two caregivers are admitted for free. Please book at least three weeks in advance by contacting Kathy Parrish at 804.340.1575 or kathy.parrish@vmfa.museum.
For more information on Alzheimer's, Dementia, or for support, please visit the Alzheimer's Association, Greater Richmond Chapter.
VMFA ArtLinks mentioned in the New York Times in conjunction with MoMA!