(1848-1933)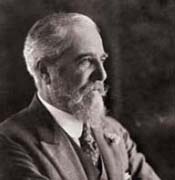 Image: Louis Comfort Tiffany, about age 69, c.1917. From the collection of the Charles Hosmer Morse Museum of American Art, Winter Park, Florida. Gift of Mrs. Benjamin H. Hosking
Louis Comfort Tiffany was one of the leaders of America's Aesthetic and Art Nouveau movements and the son of the famous jeweler Charles Lewis Tiffany, who cofounded the celebrated firm Tiffany & Co. Louis Comfort Tiffany began his career as a painter, studying under the landscapist George Inness here in America and then in Paris in 1868. An established painter by the late 1870s, he also began to experiment with glass. In 1878, he joined with other artists and designers to form an interior decorating company, the first of several companies he would establish throughout his career. Among the firms' designs were commissions for Mark Twain, Cornelius Vanderbilt, and a floor-to-ceiling leaded-glass screen for the White House entrance hall.
The European glass displayed at the Paris World's Fair of 1889 inspired Tiffany to further investigate innovations in the creation of glass. In 1894 he registered the trademark for Favrile, the name for the hand-blown iridescent glass he had been developing. This glass was used in an array of vases, decorative tiles for fireplace surrounds, and other interior decorations. His work—including VMFA's Punch Bowl—was recognized at the 1900 World's Fair in Paris, where he won five gold medals.
One of Tiffany's most notable projects was the country home he designed for himself on New York's Long Island. He later established a foundation and donated the building and property to be used as a summer retreat for young artists. Known as Laurelton Hall, the house burned down in 1957, but by that time it had been sold, and the funds from the estate were used to establish grants that are still awarded every two years to artists and craftspeople studying painting, sculpture, graphics, and textile design. These grants are a fitting legacy from an artist whose works continue to grace numerous private homes, public buildings, and churches as well as museums throughout the world.