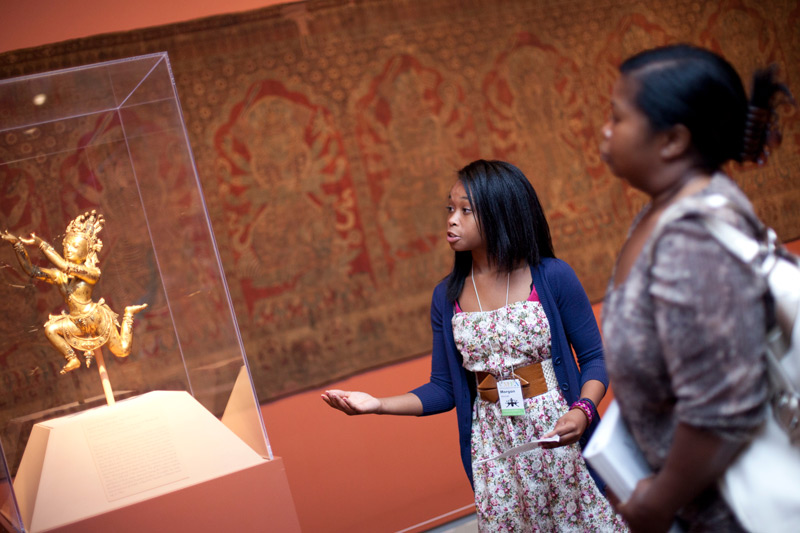 Museum Leaders in Training (M.LiT) 2019-2020 Theme:
Working Together: Developing Online Resources for Teens
The 2019-20 Museum Leaders in Training program complements VMFA's upcoming exhibition Working Together: Louis Draper and the Kamoinge Workshop, which will be the first major museum exhibition in the United States about the Kamoinge Workshop, a New-York based collective of African American photographers formed in 1963.
During the twelve-week course, M.LiT students will develop content and create a new teen-focused educational resource set focused on Kamoinge Workshop founder Louis Draper's life in Richmond. Working with photographs highlighted in the special exhibition and conducting research, with access to VMFA and partner organization's archival materials M.LiT students will explore themes of civil rights, representation, and community.
Training sessions occur weekly on Thursdays. Specifics dates and times are outlined below.
Program Orientation: Thu, Oct 3, 6 pm
Workshops: Thursdays, Oct 10, 2019 – Jan 16, 2020, 5:30–8:30 pm
Holiday Breaks: Oct 31, Nov 28, Dec 26, and Jan 2
Presentations and Recognition Ceremony: Fri, Jan 24, 2020, 2–6 pm (date/time subject to change)
---
APPLICATION
All Call for Applications:Monday, August 5, 2019
Application Deadline: Monday, September 16, 2019 by 5 pm
Applicants will be notified of decision by Friday, Sep 20, 2019
Submission Guidelines
In addition to your application form, please submit a written statement and letter of recommendation (not a family member) of the following:
Writing Sample – Required
Your writing sample should be in response to the following prompt. Keep the helpful writing tips below in mind:
Carefully read and follow all directions.
Do not exceed the maximum word-count.
Be straightforward and confident
Proofread your work
In 500 to 1,000 words describe a time when you worked together with one or more people on a project or toward a shared goal.
In your response please consider the following:
Describe your role as an individual within the group and as a member of the group?
How did the group make decisions about how to share responsibilities?
How did you communicate your opinions and ideas for the final project within the group?
What made your group successful?
In hindsight, is there anything that could have improved the way your group worked together?
---
Portfolio

A portfolio consists of three works in the following media:
Graphic Design
Drawing/ Illustration/Painting
3-D Artwork/Sculpture
Time Based media
Applicants may submit their work digitally by uploading it to the appropriate boxes below. Individual files should be in JPEG (.jpg) format with file sizes not exceeding 1 MB each. Time-based work should be submitted below as a web link to YouTube, Vimeo or SoundCloud. Original and printed works of art will not be accepted.
---
Recommendations (non-family members) – Required
Choose a professional/personal reference (teacher, coach, supervisor, scout leader, etc.) who is not related to you who can provide details about you that include:
Performance as a student
Aptitude and industriousness
Maturity and seriousness of purpose
Level of commitment and ability to follow through
Leadership abilities and/or experience
Character
Copy and share this link to your teacher for online submission of teacher recommendations: https://vmfa.formstack.com/forms/teen_programs_recommendation_form