Corporate matching gifts are a great way to maximize personal contributions to the museum and increase the impact of individual gifts. By taking advantage of a company's matching gift benefit, you may be able to double or even triple the amount of a contribution. To find out if your company has a matching gift policy using the search feature below.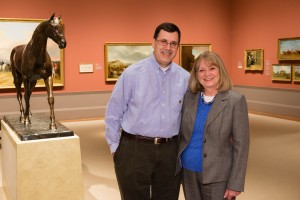 Ken and Gail Tuley, who joined the museum three years ago, recently doubled their gift when Ken's employer, Dominion Energy, matched their contribution. Ken shared, "My wife and I have really enjoyed the opportunity to broaden our horizons, learn more about the things that interest us and meet people who enjoy similar things. Our experiences at the museum—whether we're coming for a curator lecture or to hear music on Thursday and Friday nights or to see a major exhibition—are both enriching and relaxing. I'm thankful that Dominion joins me in supporting all that VMFA offers to Richmond."
If you or your company would like to make this program available to your employees, learn more about our corporate membership opportunities.
How do I get my gift matched?
Each company has its own guidelines for employees, spouses, retirees, and widows/widowers. Most corporate procedures are very simple:
1. Request a Matching Form from your company.
2. Complete and submit the form to VMFA along with your gift.
3. VMFA will verify the completed form and return it to the company.
4. The company issues a matching gift contribution to VMFA.
Completed forms can be sent with your personal gift to:
VMFA Foundation
200 N. Arthur Ashe Boulevard
Richmond, Virginia 23220-4007
Corporate matching gift search: