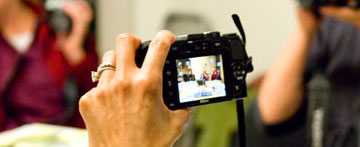 From the intricacies of learning to shoot with a digital or film camera to exploring 19th century alternative photo processes, the Studio School has a photo class for everyone.  Traditional photo darkroom enthusiasts can refine both technical and creative skills and learn about photo history and aesthetics.
Instructors Regula Franz, Frank Saunders, and Georgianne Stinnett teach most weekly classes.
Class Schedule
---
[24] Digital Media Workshop: iPad Drawing as a Springboard
Sat & Sun, Jul 17 & 18, 10 am–4 pm (2 sessions) | Studio School, 2nd floor AV Room
RANDY TOY

Learn to harness the creative potential of your iPad by exploring the possibilities of digital drawing. The workshop will introduce students how to approach drawing in a digital format and how their drawings can be used as a springboard into other media. This workshop requires an iPad . Students should download and install the free "Brushes Redux" app from Apple App Store prior to the workshop. Stylus is encouraged but not required.
$140 (VMFA members $120)
---
[33] Digital Photography for Beginners - Online AM
Mon, Jun 7– Jul 19, 10 am – 1 pm (6 sessions) | Online
JACLYN BROWN

Find out what white balance, resolution, and mega pixels are all about. This class teaches students to use their digital cameras more effectively, including the fundamentals of image capture, camera operation, proper exposure, and using a flash. Weekly assignments and sharing images in class help beginning photographers troubleshoot and develop a creative eye. Students must download the ZOOM app to their computer or iPad to participate in the class. The instructor will email students before the session begins with a link for accessing class.
$175 (VMFA members $155)
---
[34] Digital Photography for Beginners - Online PM
Mon, Jun 7– Jul 19, 7 – 10 pm (6 sessions) | Online
JACLYN BROWN

Find out what white balance, resolution, and mega pixels are all about. This class teaches students to use their digital cameras more effectively, including the fundamentals of image capture, camera operation, proper exposure, and using a flash. Weekly assignments and sharing images in class help beginning photographers troubleshoot and develop a creative eye. Students must download the ZOOM app to their computer or iPad to participate in the class. The instructor will email students before the session begins with a link for accessing class
$175 (VMFA members $155)