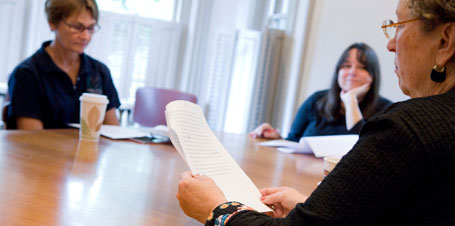 Purpose:
The principal purpose of the Teacher Advisory Council is to involve educators in developing, piloting, and evaluating educational programs produced by the Museum's Education and Statewide Partnerships staff.
Specific functions of the Council include, but are not limited to the following:
1. Review and make recommendations for the Museum's Summer Institute for Educators including program topic, format, guest speakers, activities, and classroom applicability;
2. Make recommendations for and review proposals for new programs for families, teachers, students and children;
3. Evaluate existing programs such as teacher workshops, teen studio classes, student tours, and Art in Action;
4. Review proposed resource materials for classroom feasibility including pre-visit kits, resource kits, videos, and posters;
5. Pilot new programs and/or materials and evaluate; and
6. Work as liaison between museum and the school systems, promoting and increasing awareness of educational materials and programs offered through the museum.
If you are a Virginia educator (pre K-college level) and are interested in serving on the Teacher Advisory Council for a two-year term (8 quarterly meetings) please notify Twyla Kitts, twyla.kitts@vmfa.museum.