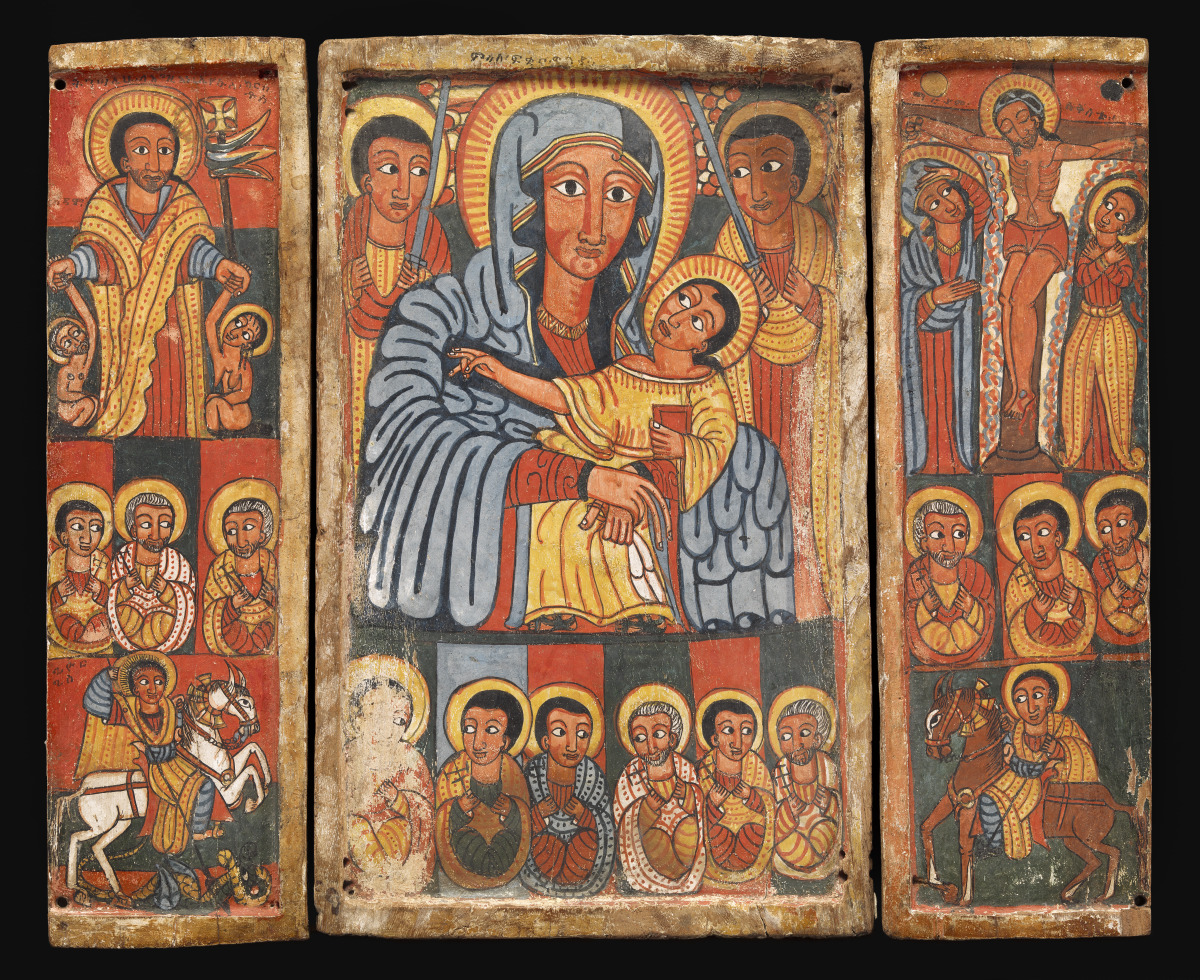 Triptych Icon (Primary Title)

In this icon, the Madonna and Child are flanked by Archangels and surrounded by images of the Crucifixion and Resurrection, apostles, and equestrian images of Saint George (left) and Saint Theodore (right). The work was likely painted in or around the city of Gondar, established as the Ethiopian capital by Emperor Fasilides in the mid-17th century. The icon's vibrant palette and the prominent and lively eyes are hallmarks of work from what is known as the first Gondar period, roughly 1670-1720.
As objects of devotion, icons were constantly touched by the faithful seeking to absorb their mystical power by rubbing, tapping, and even scratching the surface. The loss of paint in certain areas is reveals the use of the icon in this way.
The pose of the Madonna and Child follows format of the famous icon in Santa Maria Maggiore in Rome known as the Salus Populi Romani (The Salvation of the Roman People), believed to date from the 6th century and mythically supposed to have been painted from life by the apostle Luke. Prints reproducing that work were brought to Ethiopia in the late 16th century by Portuguese Jesuit missionaries during an "open" phase of the country. Although Fasiledes soon "closed" the borders and banished the Jesuits, the image-type was retained as a model for Ethiopian icon painting.
Purchased with funds donated by The Reverend Doctor Vienna Cobb Anderson
Image released via Creative Commons CC-BY-NC
Some object records are not complete and do not reflect VMFA's full and current knowledge. VMFA makes routine updates as records are reviewed and enhanced.