Wall Drawing #541 (Primary Title)

"When an artist uses a conceptual form of art, it means that all of the planning and decisions are made beforehand and the execution is a perfunctory affair. The idea becomes a machine that makes the art." —Sol LeWitt
In the mid-1960s, Sol LeWitt was a founder of Conceptual Art, an international movement that stressed idea over form. LeWitt regarded his "wall drawings" as akin to musical compositions that could be performed again and again. A museum or collector purchasing one received a certificated of ownership and a set of installation instructions.
The colors in this version come from layering transparent washes of red, yellow, blue, and gray directly on the wall rather than mixing them beforehand; LeWitt's instructions specify the number of layers and the order in which to apply them. The cubes are isometric drawings (all opposite sides are parallel) that represent three-dimensional forms on two-dimensional surfaces. LeWitt crops some of the forms to create the illusion that the images continue past the plane of the wall.
LeWitt's unique contribution to Conceptual Art lies in his brilliantly clear application of its premises and his endlessly fascinating results. His simple premise for this wall drawing—"On each of four walls, a tilted form with color washes superimposed"—hardly suggests the resulting beauty of the finished work.
Sydney and Frances Lewis Endowment Fund
Arts plastiques, Practiques artistiques Premiere. Paris: Ministere de L'Education Nationale, 2011. (No. 55, p. 117).

Barriault, Anne B., and Kay M. Davidson. Selections from the Virginia Museum of Fine Arts. Richmond, VA: Virginia Museum of Fine Arts, 2007. (pp. 320-321, ill. p. 321)

Ravenal, John B. Modern and Contemporary Art at the Virginia Museum of Fine Arts. Richmond: Virginia Museum of Fine Arts, 2007. (Pp. 86-87).

Protzman, Ferdinand. "Putting Art in Its Place." The Washington Post, Sunday, April 23, 2000. (P. G-8).

Garrels, Gary, ed. Sol LeWitt: A Retrospective. New Haven: Yale University Press, 2000. Exhibition catalogue. (Nos. 167-169, pp. 222-223).

Washington Museums 2, no. 1 (Spring 2000). (P. 23).

Singer, Susanna, ed. Sol LeWitt Wall Drawings, 1984-1992. Bern, Switzerland: Kunsthalle Bern, 1992. (P. 55; 61; 152).

Collection of the artist, New York; Purchased by Virginia Museum of Fine Arts (VMFA), Richmond, Virginia in 1999. [1]

[1] Accessioned May 20, 1999. See VMFA Curatorial File.
©artist or artist's estate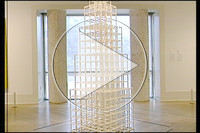 2:10
Sol LeWitt talks about his work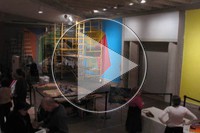 :37
Timelapse of the reinstallation of Sol Lewitt Wall Drawing #541 at VMFA in 2009
Some object records are not complete and do not reflect VMFA's full and current knowledge. VMFA makes routine updates as records are reviewed and enhanced.