Imperial Easter Egg with Revolving Miniatures (Primary Title)

The Imperial Rock Crystal Easter Egg with Revolving Miniatures was presented by Tsar Nicholas II to his wife, Empress Alexandra Feodorovna, in 1896 for their second Easter as a married couple—just two months before their coronation. The base of this egg is decorated in champlevé enamels and set with rose-cut diamonds. Its upper register features the monogram of Princess Alix of Hesse and by Rhine, Alexandra Feodorovna's name and title before she married Nicholas in 1894.
twelve miniatures signed Zehngraf
Initials of workmaster Mikhail Perkhin, assay mark of St. Petersburg before 1899, 56 zolotnik; original fitted velvet case lining with imperial warrant mark of Faberge, St. Petersburg, Moscow; the exterior stamped (later) with Cyrillic initials "AF" and no. 17546
Bequest of Lillian Thomas Pratt
Falling in Love Again, Virginia Museum of Fine Arts, Phillip Morris Gallery, July 1-September 25, 1994.
Collector of the Year, Virginia Museum of Fine Arts, February 6 - March 13, 1983.
The Today Show television, New York, 26 March 1968.
Paris Exposition Universelle, Paris, April 15 - November 12, 1900.


"Story Tellers in New York: Fabergé by von Habsburg," PAVONE Royal Celeb Style Vol. 15 [Japanese] color ills. p. 19.

Parker Lesley, Faberge Catalog, Virginia Museum of Fine Arts, 1976 (?), Cat. 46, p. 40, illus., p. 37.

Patricia Failing, Best-Loved Art from American Museums, New York: Clarkson N. Potter, pp. 44-45 (color illus.)

Paul N. Perrot, "A Note on the Virginia Museum's Jewels," Apol.lo, Dec. 1985, pp. 488-489, illus. color plate xx, p. 489.

Susanna Pfeffer, Faberge Eggs: Masterpieces from Czarist Russia, New York: Hugh Luter Levin Association, Inc., 1990, p. 42, illus., (color), p. 43

Christopher Forbes, et. al., Faberge: The Imperial Eggs, New York: Neues Publishing Co., 1989, illus., fig. 12, p. 97.

Dorota Jarowicz, "Bezcenne Jajko (Unusual Easter Eggs)," Twoj Dom Magazine Vol. 6, No. 6, April 2006, color ill. no. 1, p. 8.

Natalia Semenova et al, Russia's Masterpieces on the Block (Moscow: Trilistnik Publishers, 2000) pp.?, color ill. p. 39.

James S. Wamsley, "Fabergé the Fabulous," Southern Accents, Vol. 19, No. 5, September-October 1996, pp. 14, 130-134, ills. pp. 14, 130.

A&E Biography: FABERGÉ documentary video (Studio City, CA: Weller Grossman Productions and the Arts and Entertainment Network, 1996).

Tatiana Fabergé et al, The Fabergé Imperial Easter Eggs (London: Christie, Manson and Woods Ltd., 1997) pp. 10, 49, 54-55, 124, 241, 259, cat. no. 14, color ill. p. 125, b&w ill. p. 50.

A. Kenneth Snowman, The Art of Carl Faberge, London: Faber and Faber, and Glasgow

The University Press, 1953, pp. 80-81, illus. no. 295, 296, 297.

Parker Lesley, Russian Imperial Jewels, Richmond: Virginia Museum of Fine Arts, 1960, Cat. no. 46, p. 34, illus., p. 33

Virginia Cowels, The Last Tsar and Tsarina, London: Weidenfeld & Nicholson, color plate p. 68.


Christopher Forbes, "Faberge Imperial Easter Eggs in America Collections," Antiques Magazine, Vol. 115, no. 6, p. 1230, illus. p. 1231.

Imperial Easter Eggs, Plymouth Traveler, March 1961, pp. 14-15, illus.

Charles Mathes, Treasures of American Museums, New York, M & M Books, 1991, illus., (colo), p. 84 fig. 2.
Image released via Creative Commons CC-BY-NC
0:58
VMFA Faberge Imperial Egg with Revolving Miniatures
27:02
This intimate documentary unveils the world-renowned Lillian Thomas Pratt Collection of Fabergé and Russian Decorative Arts at the VMFA through recollections of family members and others who share their experiences about Mrs. Pratt, the passionate collector, and the facts behind the fantasies.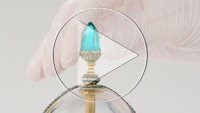 00:00:59
Imperial Rock Crystal Easter Egg, 1896, by Fabergé firm Mikhail Perkhin, Workmaster (Russian, 1860 - 1903) Johannes Zehngraf, Painter of miniatures (Russian , 1857 - 1908) Rock-crystal, gold, emerald, diamonds, enamel, watercolor on ivory Bequest of Lillian Thomas Pratt Music: excerpt from Alexander Borodin, String Quartet No. 1 in A Major - I. Moderato - Allegro
Some object records are not complete and do not reflect VMFA's full and current knowledge. VMFA makes routine updates as records are reviewed and enhanced.