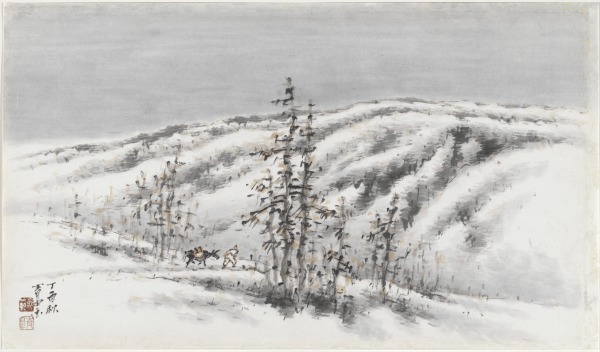 Winter Landscape (Primary Title)
雪山歸旅圖 李象範 이상범 大韓民国 紙本水墨淡彩 (Translation)

This intimate view of the countryside is characteristic of the style of Lee Sang-beom whose pseudonym is Cheongjeon, as signed in this work. In a landscape blanketed with heavy snow, a village man and a donkey carrying goods on its back walk along a narrow path. Notable for using traditional ink, white pigment, and economic brushwork, Lee presents an early winter scene of the mountain village in an idyllic atmosphere, marking the distinctive style of modern Korean painting.
Born in Gongju, Lee Sang-beom founded the Cheongjeon Art Academy and started a teaching career, which extended to his tenure at Hongik University. He received a distinguished service medal from the National Academy of Art as well as numerous cultural awards throughout his life.
Modern period (1910-present)
Two artist's seals: 象範 Sangbeom, 青田 Cheongjeon
Gift of Dr. and Mrs. Herbert A. Claiborne, Jr.
©artist or artist's estate
Some object records are not complete and do not reflect VMFA's full and current knowledge. VMFA makes routine updates as records are reviewed and enhanced.