"[My works] compose an alternative black identity. I am using symbols of science and exploration to illustrate figures who are crafting this new identity. They do not seek to integrate blackness into the world outside of it, but try to bring otherthings back into it, filling it up until everything is black." —Robert Pruitt
For the past decade, Pruitt has made large drawings of mostly single figures: ordinary people presented as multicultural superheroes in colorful and outlandish costumes, attitudes, and poses. Pruitt describes his mission as expanding African American identity by drawing on a wide range of sources, including comic books, science fiction, mythology, art history, and politics. Pruitt's subjects are people he knows. The dignified, self-possessed woman in Steeped is based on a photograph of his girlfriend, who looks out from beneath an overly large Afro that is shaped like a Mesoamerican stepped pyramid.
Funds provided by Jil and Hiter Harris
Identity Shifts, Virginia Museum of Fine Arts, April 26 – July 27, 2014
3:50
American artist Robert Pruitt discusses his inspirations, his process, and elements of the absurd in this artist talk.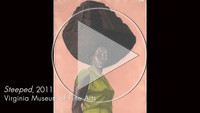 3:51
Robert Pruitt talks about his work and Steeped.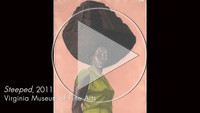 Some object records are not complete and do not reflect VMFA's full and current knowledge. VMFA makes routine updates as records are reviewed and enhanced.