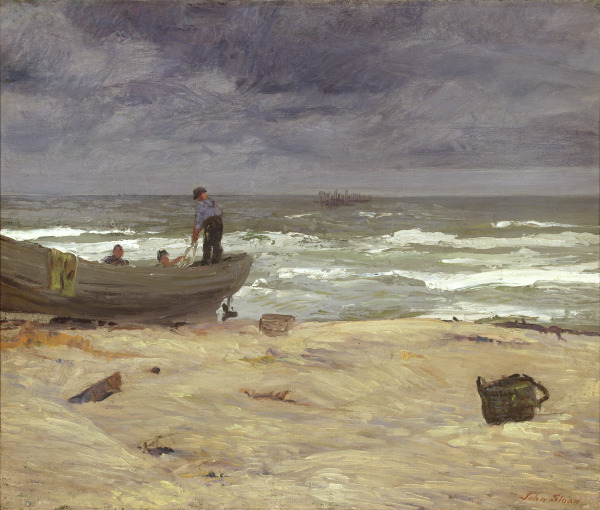 Gray Day, Jersey Coast (Primary Title)

This painting marks a departure from the artist's typical urban scenes. Boldly rendered in broad brushstrokes, three figures in a boat are framed by three dull-colored horizontal bands forming the sky, sea, and beach. The dreary palette lends the image a quiet air that belies its lighthearted inspiration. While he and the young painter Stuart Davis were walking the beach near Avon, New Jersey, they encountered a beached and decaying shipwreck. In the spirit of the moment, the artists nicked what they could. Sloan wrote: "Stuart and I worked like heroes and got two or three long keel bolts, solid copper, also some smaller copper spikes, bruised and banged up my tender feet and hands but I enjoyed this salvage very much." The painting remained in the artist's collection for the duration of his life.
James W. and Frances Gibson McGlothlin Collection
Rawles, Susan J. and Christopher C. Oliver. "The James W. and Frances Gibson McGlothlin Collection of American Art: A Promise Fulfilled", (Richmond: Virginia Museum of Fine Arts, 2015): p. 130-131.
Some object records are not complete and do not reflect VMFA's full and current knowledge. VMFA makes routine updates as records are reviewed and enhanced.