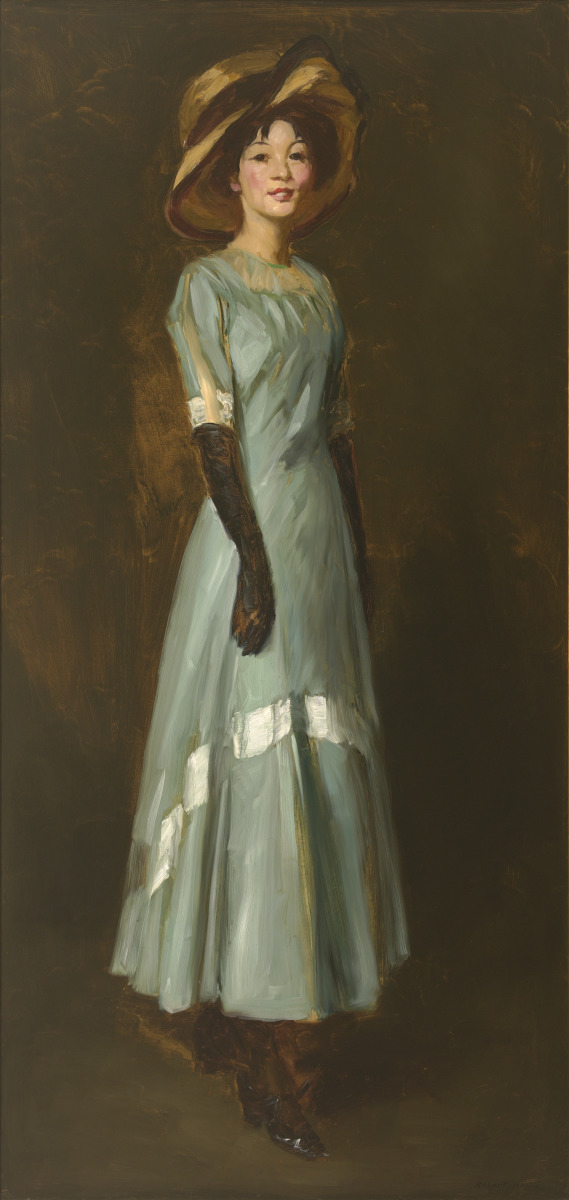 Miss Kaji Waki (Primary Title)

Robert Henri was a master portraitist dedicated to presenting "newly come immigrants" and others largely invisible to the genteel audiences of the Gilded Age. However, his portraits were concerned less with identity than with a "democratic individuality" he sought in modern life. This portrait of Kaji Waki is a case in point. Here, Henri conflates the tradition of the society portrait with the direct gaze and insouciant attitude of the street urchin. The brazen spirit is reinforced by the crude brush, which dashes her cheeks and lips with dramatic color. Yet Bertha Adeline Waki Kaji (1887–1959) was the paternal granddaughter of Count Rintaro Katsu, the "Last Samurai," a leading Japanese statesman during the Meiji Restoration. While Henri's portrait promotes her "exoticism," Kaji's illustrious bloodline precluded her affiliation with modernism's grittier subjects.
James W. and Frances Gibson McGlothlin Collection
"Collecting for the Commonwealth Preserving for the Nation, Virginia Museum of Fine Arts, 1919-2018," Winter Antiques Show, Park Avenue Armory, New York (18-26 January, 2018).
Rawles, Susan J. and Christopher C. Oliver. "The James W. and Frances Gibson McGlothlin Collection of American Art: A Promise Fulfilled", (Richmond: Virginia Museum of Fine Arts, 2015): p. 120-121.
Some object records are not complete and do not reflect VMFA's full and current knowledge. VMFA makes routine updates as records are reviewed and enhanced.