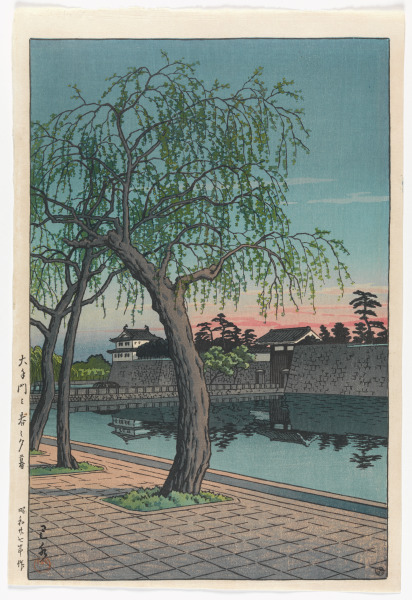 A Spring Evening at Otemon Gate (Translation)
川瀬巴水 大手門の春の夕暮 昭和二十七年 木版画 (Primary Title)

Otemon Gate, the main entrance to the East Garden of the Imperial Palace in Tokyo, opened to the public in 1968. Located at the city's center, the East Garden occupies fifty-two acres and features gardens, a pond, and a castle. Throughout his career, Hasui depicted numerous views of the palace in different seasons. In this spring scene, he illustrates the outside of Otemon Gate, showing the willow trees lining the sidewalk. His mastery in treating light and shadow is revealed through the glow of the evening sunset on the distant horizon and the silhouette of the palace architecture on the surrounding moat.
Artist's seal; Publisher's seal Watanabe Shōzaburō
René and Carolyn Balcer Collection
1979渡辺/川瀬巴水…544/*** 昭和二十七年 無外題 ワタナベ 大手門の春の夕暮
©artist or artist's estate
Some object records are not complete and do not reflect VMFA's full and current knowledge. VMFA makes routine updates as records are reviewed and enhanced.