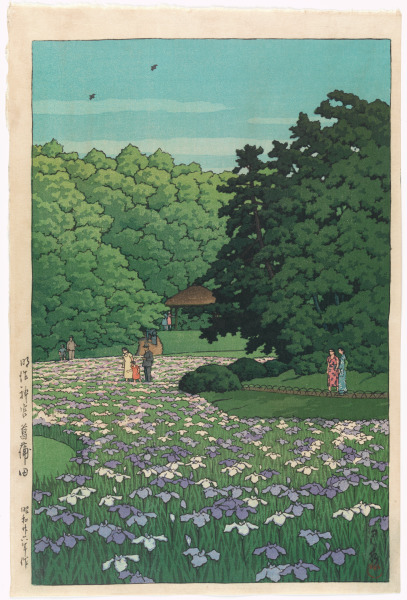 Iris Garden at Meiji Shrine (Translation)
川瀬巴水 明治神宮菖蒲田 昭和二十六年 木版画 (Primary Title)

The Meiji Shrine was built in 1921 in memory of Emperor Meiji (1852-1912) and Empress Shoken (1849-1914). Encompassing 170 acres, the shrine is known for its combination of forests and an iris garden. Here, Hasui depicts purple and white irises in the foreground and visitors strolling around the garden. During the Edo period, Japan's emperors were shadowed under shogunate military rulers. When Emperor Meiji came to the throne in 1868, he launched a series of political and economic reforms that transformed Japan from an undeveloped feudal society into a modern, industrial nation. Originally, 48 species of irises were planted at the shrine, while today 150 species are represented in the 1,500 flowers grown here.
Artist's signature in ink and seal in red within image lower right: 巴水 Hasui
Publisher's seal (Watanabe Shōzaburō) within image lower left.
Inscribed in ink in lower left margin: 明治神宮 菖蒲田 昭和二十六年作
René and Carolyn Balcer Collection
1979渡辺/川瀬巴水…542/ 昭和二十六年 無外題 ワタナベ 明治神宮菖蒲田
"Seasonal Flowers in Japan: Woodblock by Kawase Hasui" April 18 - October 12, 2015, VMFA
©artist or artist's estate
Some object records are not complete and do not reflect VMFA's full and current knowledge. VMFA makes routine updates as records are reviewed and enhanced.