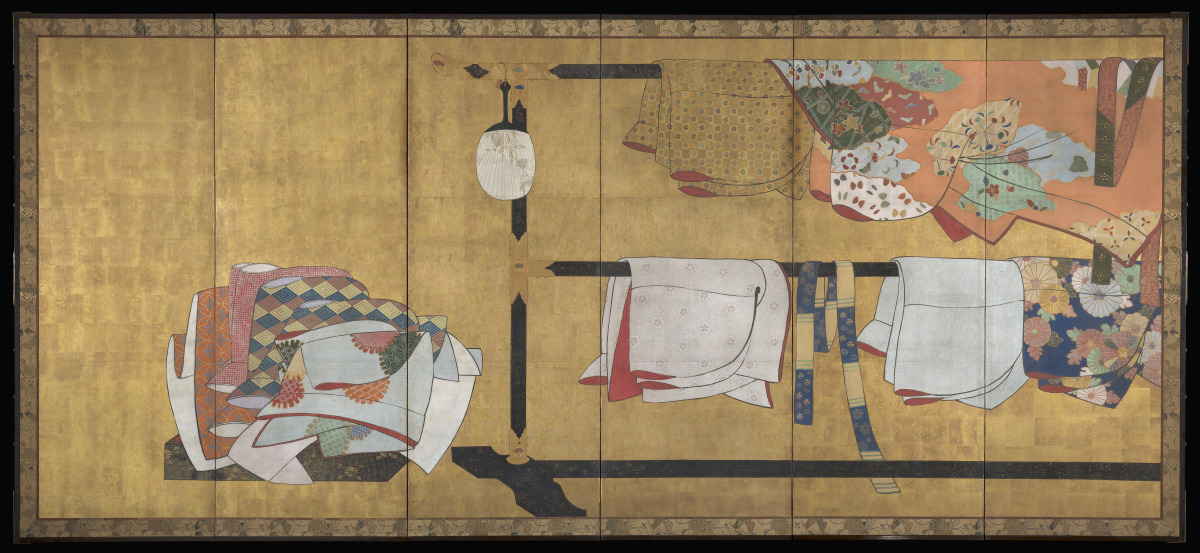 Whose Sleeves? (Translation)
誰が袖図屏風 江戸時代 六曲一双 金地著色 (Primary Title)

This pair of screens depicts women's kimonos hanging from two wooden racks. The delicate patterns of flowers, plants, geometric decorations, and coils and waves refer to distinctive textile designs of the 17th and 18th centuries. Although human figures are absent from the screens, copies of The Tale of Genji with illustrated images and a Buddhist text on the floor suggest human activities associated with Japanese classical literature and Buddhist religion during mid-Edo Japan.
Early to mid-Edo period (1615-1868)
Arthur and Margaret Glasgow Endowment
第二回日本名寶展,主催讀賣新聞社. The Second Exhibition of Japanese Treasures, organized by Yomiuri Shimbun, Tokyo, 1930.
第二回日本名寶展畫集, 画報社. The Selection of Paintings from the Second Exhibition of Japanese Treasurs. Tokyo: Gahosha, 1930 [Showa 5], p. 43.

Image released via Creative Commons CC-BY-NC
Some object records are not complete and do not reflect VMFA's full and current knowledge. VMFA makes routine updates as records are reviewed and enhanced.