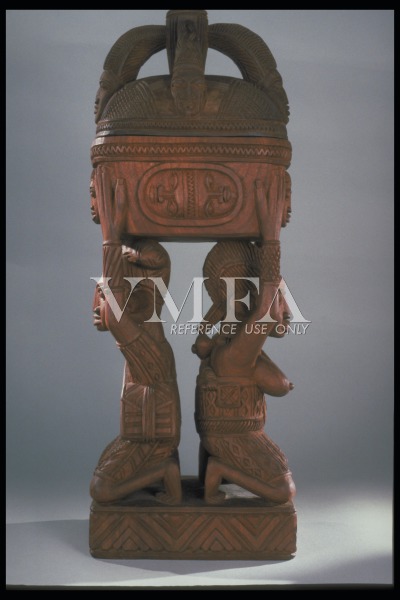 Lidded Bowl (Primary Title)

We rarely know the names of the artists who have created Africa's art treasures. This work, however, is signed by the Yoruba sculptor Akin Fakeye, a member of a well-known family of carvers. We also know the exact year it was made.
Offering kola nuts to guests from an ornate lidded bowl is a sign of welcome in a Yoruba home. This bowl was purchased by Richmond resident Allan Brockenbrough while he was living in Nigeria during the 1970s. Because it has not been used, it provides an instructivecomparison with other works on view here that have been extensively handled. The surface of this kola-nut bowl is fresh and crisp, but appears dry when compared to the deep luster and smoothly worn surfaces of many adjacent sculptures. The effects of use often enhance the appearance of an African sculpture, giving it a more palpable sense of life.
Signed, carved into bottom: "AKIN FAKEYE".
Gift of Mr. Allan Brockenbrough
"Spirit of the Motherland." Roanoke: Museum of Western Virginia. September 1995- January 1996. Newport News: Peninsula Fine Arts Center. January- May 1996
© artist or artist's estate
Some object records are not complete and do not reflect VMFA's full and current knowledge. VMFA makes routine updates as records are reviewed and enhanced.