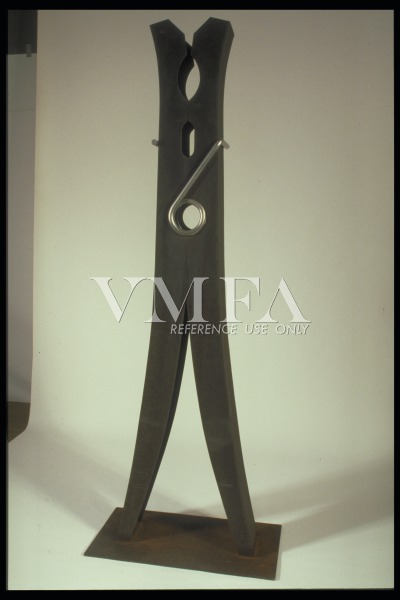 Clothespin Ten Foot (Primary Title)

"The main reason for the colossal objects is the obvious one—to expand and intensify the presence of the vessel—the object." —Claes Oldenburg
Everyday objects often assume grand proportions in Oldenburg's work. In the early 1960s, he was one ofthe original Pop artists using banal commercial items— food, clothes, household appliances—as subjects for his oversized sculptures. By enlarging them, changing their materials, and simplifying their forms, he made the familiar become strange.This work originated in 1967 on a plane above Chicago. Oldenburg held a clothespin up to the view from the window and imagined a colossal public sculpture in the urban landscape. In 1976, as his first permanent outdoor work on a large scale, heplaced a forty-five-foot-tall steel clothespin in downtown Philadelphia. The tenfoot- tall version here implies architectural scale but also alludes to a body, or perhaps two bodies embracing.
number 1 from edition of 3
Gift of Sydney and Frances Lewis
Bedford Gallery, Longwood College, Farmville, VA, January 17 - February 19, 1988

Sculpture: The Transition in Steel, Nassau County Museum of Fine Arts, Roslyn Harbor, NY, November 9, 1983 - January 24, 1984
Ravenal, John B. Modern and Contemporary Art at the Virginia Museum of Fine Arts. Richmond: Virginia Museum of Fine Arts, 2007. (Pp. 130-131).

Tully, Judd. "Sydney and Frances Lewis: The quest for the best in art." Smithsonian 18, no 8 (November 1987). (P. 87).

Storm King Art Center Sculpture Newsletter (Fall 1983). (P. 2).
(Leo Castelli, New York) by 1974; Purchased by Mr. and Mrs. Sydney and Frances Lewis, Richmond, Virginia in May of 1974; Gift to Virginia Museum of Fine Arts (VMFA), Richmond, Virginia in December of 1985.
Some object records are not complete and do not reflect VMFA's full and current knowledge. VMFA makes routine updates as records are reviewed and enhanced.