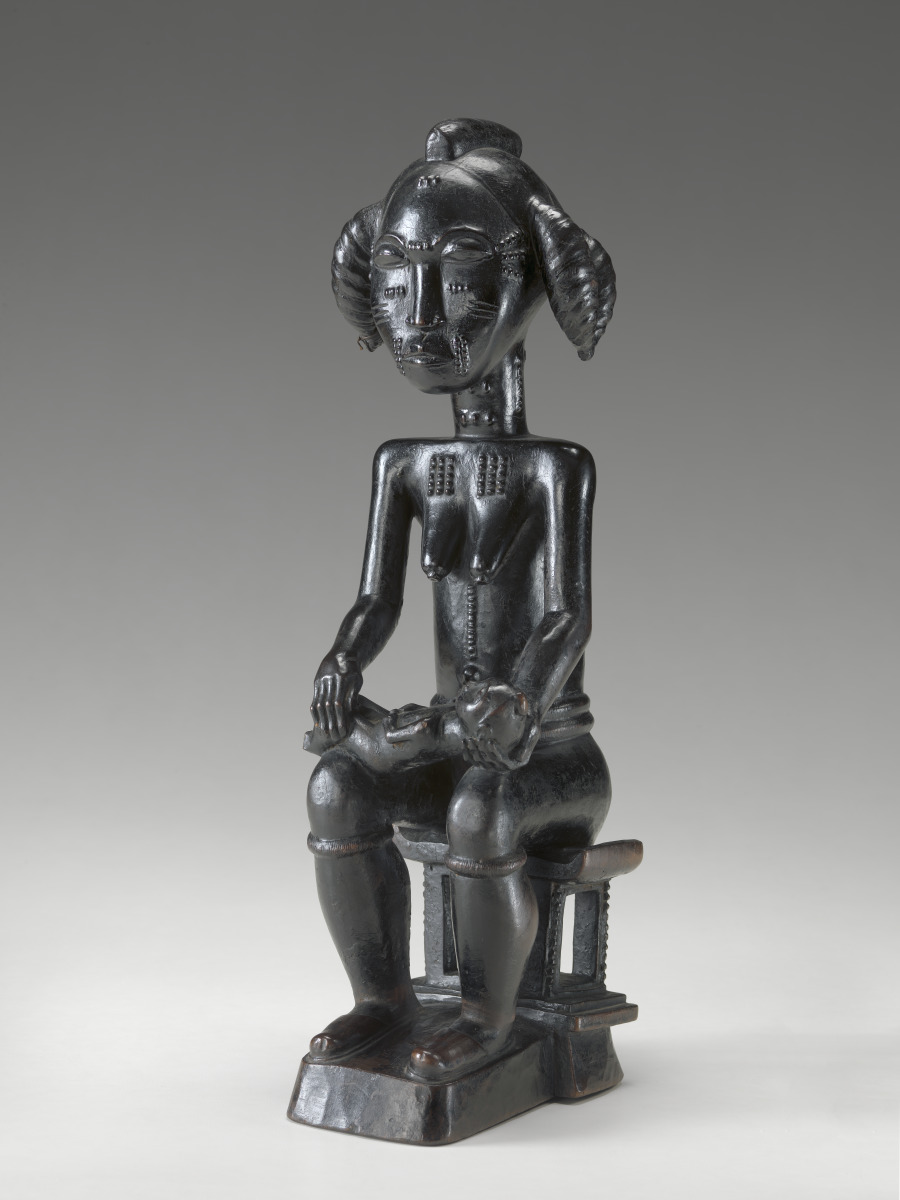 Seated Mother and Child (Primary Title)

1-This beautifully detailed carving depicts a mother tenderly cradling her child on her lap. Though her arms and hands support the child with gentle care, her erect posture and impassive face register the remote self-awareness of nobility. She sits on a miniature throne, confirming her royal status. Typical of thrones of the Akan culture, of which the Baule people are a major subgroup, the seat of this throne is supported by five pillars and has upwardly curving edges. A full-size Akan stool is on display behind this figure.
2- This beautiful Baule sculpture of a seated mother and child is positioned at DAWN in the life-cycle plan of the gallery.
According to the Kongo cosmogram, this stage of life, known as KALA, refers to rising: the beginning of a person's life in the community.
Arthur and Margaret Glasgow Fund
"Resonances," Tribal Art Centre Basel, Basel, Switzerland, January - June 1984
Armstrong, Robert Plant. "My Collection," African Arts 7 (1974): 38-45. (illus. 5)

Armstrong, Robert Plant. The Powers of Presence: Consciousness, Myth, and Affecting Presence. Philadelphia: University of Pennsylvania, 1981. (illus.9)

"Ben Heller Inc." insert from Arts d'Afrique Noire. 38: (Summer 1981)

Greub, Suzanne. Resonances: Tribal Art-Modern Art. Basel, Switzerland: Tribal Art Centre Basel, 1984. (illus. 13)

Proctor, Roy. "Museum Acquires Array of Works." Richmond Times-Dispatch. February 29, 2000.


Image released via Creative Commons CC-BY-NC
Some object records are not complete and do not reflect VMFA's full and current knowledge. VMFA makes routine updates as records are reviewed and enhanced.