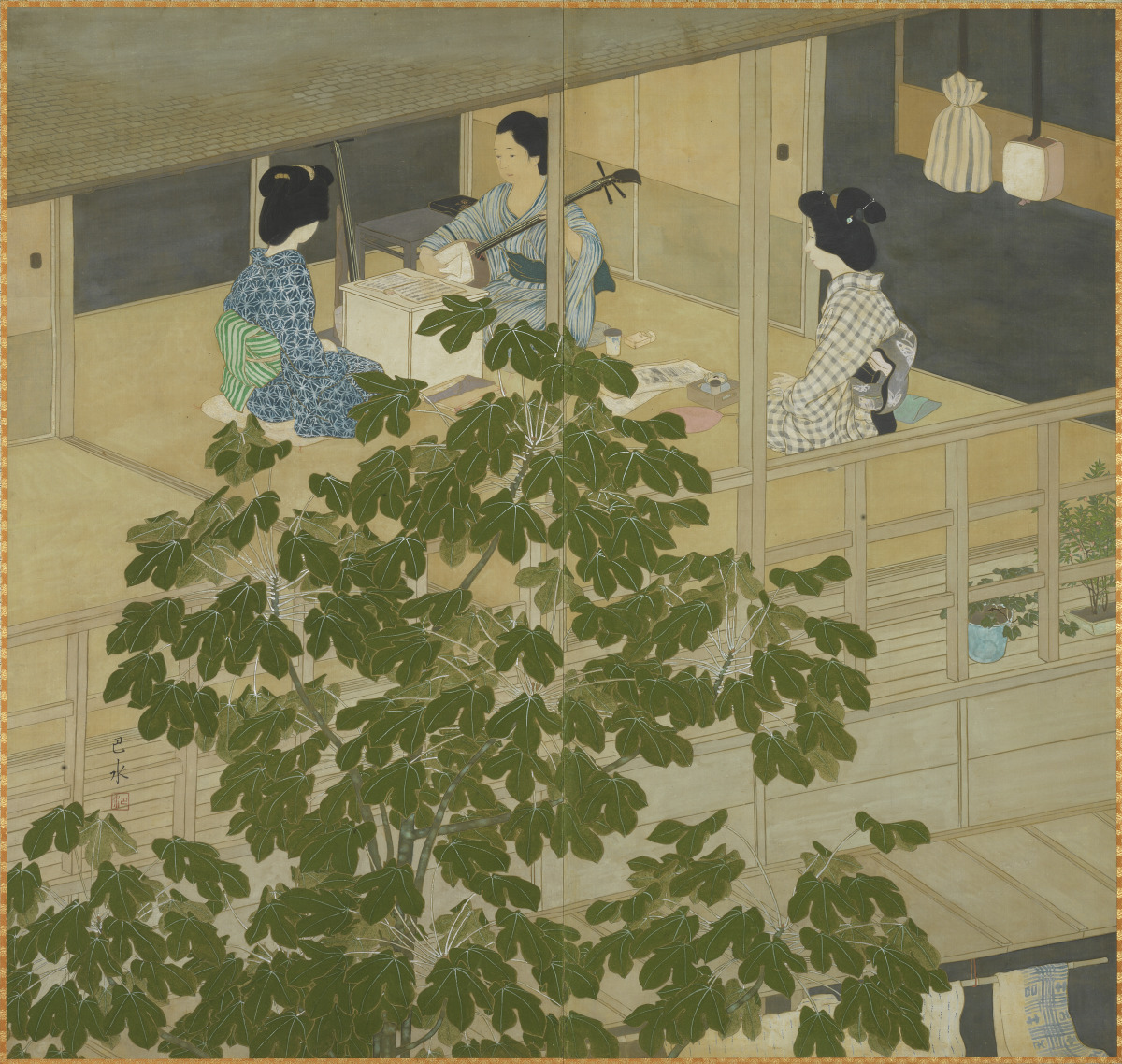 The Singing Lesson (Okeiko) (Translation)
川瀬巴水 お稽古 大正時代 二曲屏風 墨筆設色 (Primary Title)

Although Kawase Hasui designed more than six hundred woodblock prints in his lifetime, only three screen paintings are known by the artist. Here two geishas sit on tatami mats as they practice singing with their instructor. Hanging on the wall are two shamisen instruments, plucked lutes with three strings traditionally played to accompany singing, dance, or drama. Trademarks of Hasui's printmaking, such as vivid colors and his handling of spatial complexity, are demonstrated here on a much larger scale.
Taisho period (1912-1926)
René and Carolyn Balcer Collection
The Kyodo-kai Exhibition, Tokyo, 1915, along with artworks by the students of Kaburaki Kiyokata (Japanese, 1878-1972)

"Water and Shadow: Kawase Hasui and Japanese Landscape Prints", VMFA, November 15, 2014 to March 29, 2015.
VMFA, "Water and Shadow: Kawase Hasui and Japanese Landscape Prints", VMFA and Hotei Publishing, 2014, pp. 4, 168, 171.
Balcer, René C. "Kawase Hasui: Collecting a Versatile Modern Master." Impressions No. 34 (2013): pp. 108-121. (fig 4, p. 112)
Also, per donor, this object was published in an unspecified catalog produced by the Ota Museum in Japan.
The Gift of Art, VMFA, 2016.
Some object records are not complete and do not reflect VMFA's full and current knowledge. VMFA makes routine updates as records are reviewed and enhanced.