A Brief Introduction
To put it simply, the Worsham- Rockefeller bedroom is far from simple. This lavishly adorned room resided in the New York home of Arabella Worsham. When she went off to marry railroad magnate Collis P. Huntington, she sold her home to the Rockefellers. Seeing that the room was a true model of late 19th century decorative arts, the family donated it to the Museum of the City of New York. In 2008, the Museum of the City of New York was ready to deaccession, or remove the room and all of its pieces from its collection. As if by fate, the VMFA was in the midst of an expansion project and were able to find a place in its new American art wing to install it. The room now serves as a magnificent showcase of the illustrious interior design of the Gilded Age.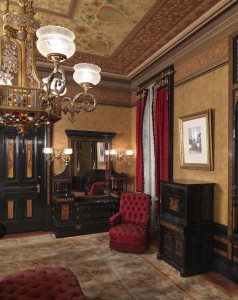 From 1870 to 1900 America saw a surge of industrialization and economic prosperity. Big business turned middle class merchants into tycoon bankers and businessmen. Those who ended up on the very top rungs of the social ladder wanted to ensure that no one would underestimate their wealth. The driving theme of this time period was prosperity, wealth, and most of all, gold. The time period began to be known as "The Gilded Age," a term coined by American authors Mark Twain and Charles Dudley Warner. The Worsham-Rockefeller room is an excellent example of a Gilded Age interior. The room shows a few aspects of earlier Victorian decor while also sticking with the grandiose taste of the time.
Interesting Facts about the Huntington Family
Collis wanted to emulate the works of Alfrederick Hatch who lived at 49 Park avenue.  A.S. Hatch was the president of the New York Stock Exchange and a very avid art collector with a very elaborately decorated home
Collis was a member of the Union League Club of New York (alongside J. Pierpont Morgan and other billionaire New Yorkers) which was essentially a rich man's social club that helped to initially fund the Metropolitan Museum of Art
Collis was an acting member of the Metropolitan Museum of Art, and made hefty financial donations frequently (at least once a month)
Collis and Arabella were married by Reverend Henry Ward Beecher, brother of Harriet Beecher Stowe (author of Uncle Tom's Cabin)
in 1886, Andrew Carnegie told Collis "Sorry to find you still working in New York, when you should be away with your wife enjoying yourselves. In 20 years more you'll make yourself into an old man if you keep on"
He once offered a Paris art dealer $400 for a small painting, which he recognized to be by Vermeer, spurring his art collection
Returning from Paris in 1899, Collis spent $171,687 (today this would be a 4.6 million dollar equivalent) on paintings from local art dealers
He contributed generous funds to educational institutes for African Americans, working closely with the Tuskegee Institute and became close acquaintances with Booker T. Washington
Arabella's son, Archer Huntington, purchased 5 Francisco Goya paintings (famously including The Duchess of Alba), 3 Francisco de Zurbarán paintings, 4 by Murillo, and 3 by El Greco
To cope with the grief she felt after the loss of her husband, the widowed Arabella found comfort in lavish jewelry purchases. Arabella purchased a necklace in may 1906 that contained 497 pearls, weighed over 12 pounds, and cost $300,000 (today's equivalent of $7.2 million)
Later on, Arabella became known as J. Pierpont Morgan's greatest rival as an American Art Collector
Arabella Huntington's Family Tree
Where Has the Room Been?
Click Below to Learn More!
Story of the Worsham-Rockefeller Bedroom
Inside the Worsham-Rockefeller Bedroom
Conservation of the Worsham-Rockefeller Bedroom
Worsham-Rockefeller Bedroom: Interview with Curator, Susie Rawles
Worsham-Rockefeller Bedroom: Interview with Deputy Directory, Stephen Bonadies
Worsham-Rockefeller Bedroom Glossary and Bibliography