Member Events
Members of the Virginia Museum of Fine Arts are invited to enhance their experiences at the Museum through a variety of events including exhibition preview days, exclusive opportunities that highlight the permanent collection, and special programs that are tailored to specific membership levels and philanthropic interests. Click here to learn more or contact Sarah Burgess, at 804.204.2676 or sarah.burgess@VMFA.museum.
VMFA Circle Lecture Series
Open to members at the Friends Circle level, the VMFA Circle Lecture Series features speakers sharing their expertise on a variety of topics in the art world as they relate to VMFA's permanent collection and special exhibitions.
---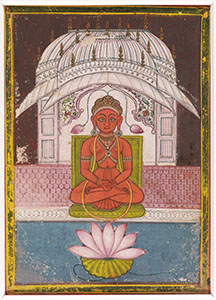 VMFA Circle Lecture Series
Thu, Mar 12, 6 pm
Worshiping the Jina: Rituals of Jain Devotion
with Dr. John E. Cort, Professor of Asian & Comparative Religions, and Judy Gentili Chair in International Studies, Denison University
The Jains are well known for their innumerable depictions of the Jinas, the enlightened and liberated teachers of Jain history. These representations—whether three-dimensional icons or colorful paintings—may consist of a single Jina or sets of three, five, or even all twenty-four Jinas of the current cycle of time. In his talk, Cort explains the basic rituals of Jain devotion performed in temples and home shrines. He clarifies who the Jina is and how the Jains understand this holiest of all beings as simultaneously singular and multiple. This presentation complements Jainism's Spiritual Victors, a painted series of Jinas recently installed in the South Asian galleries, and encourages viewers to appreciate how these objects are both works of art and foci of ritual devotion.
The VMFA Circle Lecture Series is open to all members beginning at the Friends Circle level.
IMAGE

Padmaprabha: Sixth Tirthankara of the Present Age, 18th century, Indian, Jaipur, Rajasthan, opaque watercolor, ink, and gold on paper. Arthur and Margaret Glasgow Endowment, 2017.23.6 © Virginia Museum of Fine Arts
Curator's Choice Lectures
Members beginning at the Supporters Circle level receive invitations to two additional lectures each year featuring VMFA curators, or their selected guest speakers, presenting on their work in the museum.
Fellows Programs
Members beginning at Fellows Society receive invitations to two programs each year that provide high level, exclusive access to the work of VMFA curators. With greater access to renowned visiting scholars and the museum's curatorial staff, these unique opportunities promise to nourish your passion for art and allow you to delve more deeply in VMFA's permanent collection and exhibitions program.
---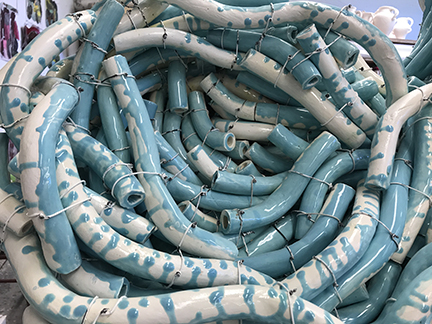 Fellows Program
Fri, Mar 27, 6 pm
Artist Talk: Annabeth Rosen

Annabeth Rosen is a pioneer in the field of contemporary ceramics, who brings fluidity to the practice and its discourse with contemporary art. Join the artist for a discussion of her practice and a closer look at the upcoming installation, Annabeth Rosen: Fables, which features four monumental sculptures alongside her works on paper created specifically for her debut presentation
at VMFA.

Annabeth Rosen: Fables is organized by the Virginia Museum of Fine Arts on the occasion of the 54th Annual NCECA Conference entitled, MULTIVALENT: Clay, Mindfulness, Memory being held in Richmond, March 25–28, 2020.
Fellows Programs are a benefit for members beginning at the Fellows Society level.
To reserve a seat or learn more, please call 804.340.1499.
IMAGE Blue Dog (detail), 2019, Annabeth Rosen (American, born 1957), ceramic, glaze, wire. Courtesy of the artist.
Other Programs
Members at all levels receive invitations to preview days for major exhibitions and special members-only hours on select Member Mondays (dates, when available, will be displayed below). Members starting at the Patrons Society level are also invited to invitation-only opening receptions for special exhibitions. Members also receive discounts on public
programs.
---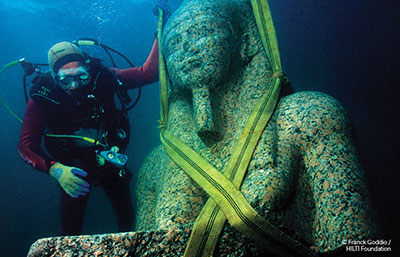 They Come from the Deep: Sunken Cities at VMFA
Thu, May 7, 6–7 pm | Cheek Theater

Dr. Peter J. Schertz, VMFA's Jack and Mary Ann Frable Curator of Ancient Art will give an overview of the upcoming exhibition Treasures of Ancient Egypt: Sunken Cities. In this talk, Dr. Schertz will discuss the exciting underwater archaeology that led to this exhibition and the light these archaeological discoveries shed on life and Religion in ancient Egypt.

Members only. Free, tickets required.
In addition to the member events outlined above, a number of highly customized events and programs are planned throughout the year that are tailored to specific membership levels and philanthropic interests. Leadership level members are invited to opening receptions for major exhibitions, members of Glasgow Society who have made planned gifts in support of VMFA's mission are invited to learn about the impact of their giving, art donors are brought together to celebrate the growth of VMFA's permanent collection each year as part of the John Barton Payne Society – these are just a few examples of the many wonderful opportunities to engage with VMFA and its mission that are provided each year. Click here to learn more or contact Sarah Hendricks, Manager of Individual Giving, at 804.340.1478 or sarah.hendricks@VMFA.museum.