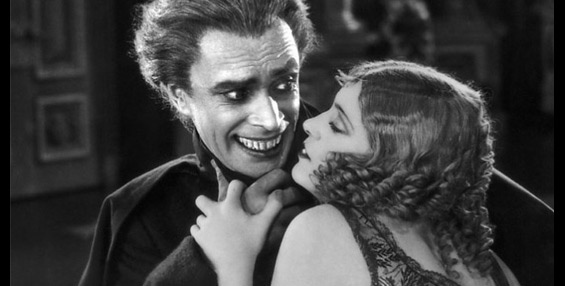 The Man
Who Laughs
(1928; 110 min; Silent)

Directed by Paul Leni
Fri, Dec 9, 6:30–9 pm
Leslie Cheek Theater
$8 (VMFA members $5)

Get Tickets

Adapted from a Victor Hugo novel, this extraordinary silent film relates to VMFA's

Jasper Johns and Edvard Munch

exhibition in its iconic and moody German Expressionist style.

In 1690, the despot king of England murders a defiant nobleman and orders his son's face disfigured into a hideous permanent smile, forcing him to "laugh forever at his fool of a father." The boy is taken in by a traveling carnival and falls in love with a blind girl. Eventually, his true identity is revealed, and he is once again embroiled in nefarious royal dealings.

---
Image: Universal Pictures
Educational programming for Jasper Johns and Edvard Munch: Love, Loss, and the Cycle of Life is generously supported by the Robert Lehman Foundation.